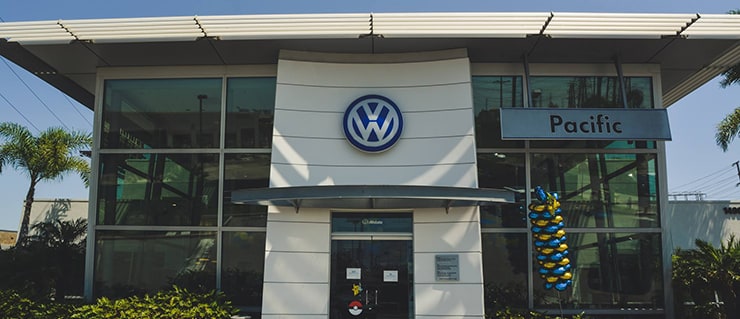 Volkswagen Dealership in Hawthorne, CA
The online presence of Pacific Volkswagen is taking some cues from our lineup of vehicles by offering our customers the latest technology to do whatever they want to do. We are using our website as an extension of our fixed operation that is able to be widely utilized by customers from the comfort of their own homes. From the Pacific Volkswagen website, customers will be able to do almost anything they can do when they visit the brick-and-mortar location just off of the I-405 freeway at the Rosencrans exit.
When customers of Pacific Volkswagen visit the new website, they will be able to view our new and pre-owned inventory, schedule service appointments and so much more. Most dealerships are happy to just flash coupons and prices of vehicles in the faces of customers. Pacific Volkswagen wants to set ourselves apart by being just as friendly and useful whether someone is standing in front of us or stilling in their home.
Each model-year that arrives to Pacific Volkswagen is better than the one that preceded it. Somehow Volkswagen engineers and designers keep finding better ways to build the lineup of Volkswagen hatchbacks, sedans and SUVs to maintain each model's position at, or near, the top of the various industry segment. All of the members of the Pacific Volkswagen sales staff is trained to be an expert in everything about each Volkswagen vehicle that occupies space in our showroom or sales lot. Furthermore, they can also explain the features and specifications of each Volkswagen vehicle that makes it a better value than the competition.
Because of the outstanding quality that goes into building each Volkswagen vehicle available at Pacific Volkswagen, many of them go on to service a series of different owners. However, there is a class of pre-owned vehicle that is a cut above the rest. Pacific Volkswagen is proud to host one of the most prolific inventories of certified pre-owned Volkswagen vehicles in our area. Customers looking for one of the most reliable vehicles on the market, matched with more savings, cannot miss the mark with a certified pre-owned VW.
We're here for whatever you need
The only way to keep Volkswagen vehicles from falling by the wayside with the competition we have worked so hard to defeat is to offer expert maintenance service for every VW vehicle that leaves our property. The Pacific Volkswagen Service Department is staffed with service technicians that have some of the most thorough training in the automotive industry. Not only does each member of our service team receive Volkswagen factory-training, they continually update those skills to ensure they are always using the best practices as prescribed by Volkswagen.
In addition to having one of the most knowledgeable service departments in the industry, we also guarantee we only use factory-approved original equipment manufacturer parts on all repairs and service work done on the vehicles we take in from customers. The vehicles that we work on were built using those same factory-approved parts, it doesn't make sense to try to cut corners and replace them with something that doesn't belong.
There will always be a group of people that like doing their own automotive repairs and Pacific Volkswagen can still be a resource to those people. Our parts department stocks and sells only Volkswagen approved parts and components. It doesn't matter what kind of work the home-based mechanic is performing, we can help with questions, tips and finding parts.