As low as
$34,260[M514]
(after potential federal tax credit)
EPA Estimated Range for ID.4 Pro
280 miles[E408]
Estimated Charging Time(at a public DC fast charger)
70 miles in about
10 minutes[E409]
Experience All-Electric Power with the Volkswagen ID.4
The electric revolution is here - are you ready to join in?
With the new Volkswagen ID.4, you can kiss the gas station goodbye. The new all-electric Volkswagen vehicle is here and it's causing a disruption in the automobile industry, offering drivers exceptional performance, technology, and design features. By driving this electric vehicle, you can drive with confidence knowing that you are reducing your carbon footprint.
Volkswagen ID.4 Inventory: Shop Now!
Learn More About the VW ID.4
Performance
Unless you're going inside to get some candy or soda on a long road trip, nobody likes going to the gas station. With the 2021 Volkswagen ID.4, you can finally avoid gas station visits. That's right - say goodbye to that gross gasoline smell and unsanitary gas pumps.
The 2021 Volkswagen ID.4 relies entirely on electric power. Instead of optimizing your driving habits to get the most miles per gallon, you can drive confidently with the 2021 Volkswagen ID.4 knowing that you will get an exceptional electric driving range. The EPA estimates that the 2021 Volkswagen ID.4 has an electric range of about 250 miles, which is perfect for daily work commutes, errands around town, or long-distance drives to nearby cities.
With over 17,000 charging stations around nowadays, charging on the go is easier than ever before. Whether you're charging at home using an L2 wallbox charger or using an Electrify America DC Fast Charger, you will experience fast charging. With a public DC fast charger, your Volkswagen ID.4 can charge to 60 miles in about ten minutes or charge from 5 percent to 80 percent in about 38 minutes.
But convenience isn't the end of the benefits you'll get with the 2021 Volkswagen ID.4. You'll also enjoy instant torque for your daily drives, giving you fantastic power wherever you want to go. From the moment you depress the accelerator, you will love that this electric motor is quieter than a combustion engine. Also, drivers who want to get the best handling and acceleration will want to opt for the available all-wheel drive, giving your 2021  Volkswagen ID.4 a second motor at the front wheels.
Technology


The all-electric 2021 Volkswagen ID.4 has advanced technology to make your daily drives more intuitive. Take control of this electric vehicle for the best up-to-date technology that the automobile industry has to offer.
Your ID.4 will engage in Intuitive Start whenever you climb inside and sit in the driver's seat. Once it detects your key fob in the driver's seat, it will "wake up" automatically and be ready for the road in seconds. Your Volkswagen ID.4 also comes with an easy-to-use 12-inch touchscreen display with smart features like climate control, radio/media, interactive navigation, ambient light, and more. Also, the 2021 Volkswagen ID.4 comes with wireless connectivity, enabling you to charge your phone without dealing with unwieldy wires. If you want to play some music, your favorite audiobook, or a recent podcast episode, you can do that easily with the Volkswagen ID.4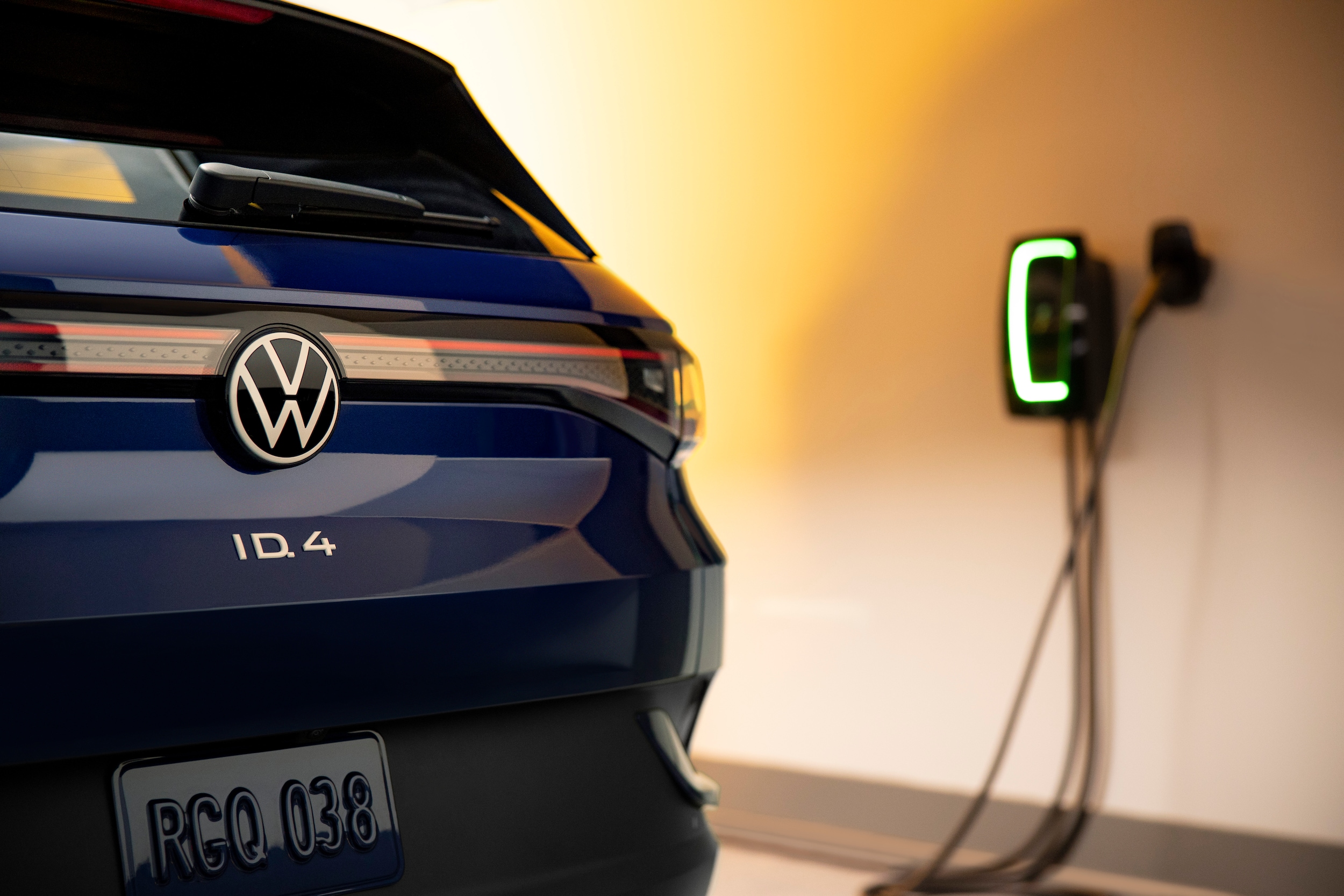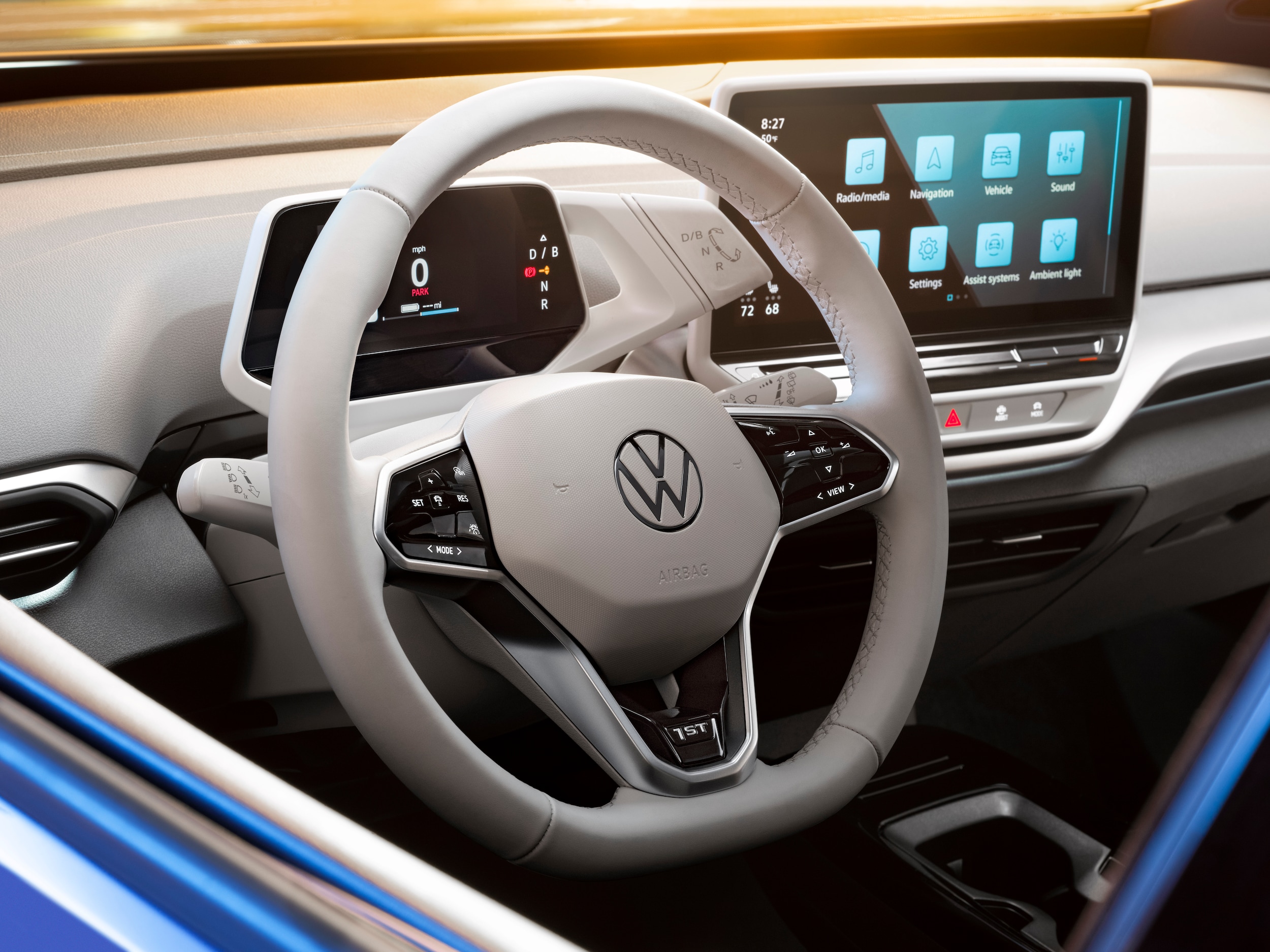 Exterior


We know that you're going to love the 2021 Volkswagen ID.4's exterior. Since this electric vehicle is pushing the boundaries of technology and helping bring the automobile industry into the future, the 2021 Volkswagen ID.4 shows off with a futuristic style. With plenty of smooth edges and a sleek front end, this electric SUV is sure to turn some heads.
Local drivers will love the optional Gradient package, which gives the Volkswagen ID.4 a black roof, silver roof trim, silver roof rails, silver accents, and beautiful 20-inch wheels. With the large glass roof, getting nice views of the gorgeous night sky or soaking in the sun is easy with your new electric SUV. The 2021 Volkswagen ID.4 provides an eye-catching look with LED taillights and illuminated door handles, giving your electric vehicle a style that is uniquely its own.
Interior


The 2021 Volkswagen ID.4 was designed for everyone in mind, from the passengers in the back to the captain of the ship behind the steering wheel.
Take a seat in the Volkswagen ID.4's incredibly comfortable seating made with cozy materials. This electric SUV is also very spacious, giving local drivers enough room to bring along up to four passengers. When you have your four friends riding along with you on your next adventure, you can rest easy knowing that they have plenty of space with a rear legroom of 37.6 inches. Going on a long-distance trip away from home? You're probably going to have a lot of cargo. Thankfully, the 2021 Volkswagen ID.4 has 64.2 cubic feet of cargo space with its rear seats folded down, giving you plenty of space to fit all your luggage or equipment.


Trim Level Breakdown
The 2021 Volkswagen ID.4 comes in three different trims. With this variety, you can select your favorite trim that offers the right features for you. To help guide you in purchasing the right new electric SUV for you, here's a breakdown of the 2021 Volkswagen ID.4's available trims:
1st Edition: The 2021 Volkswagen ID.4 1st Edition comes with numerous features that will intrigue drivers who want something luxurious. This electric SUV will come with unique badging and accents, a black painted roof, silver roof rails, 20-inch alloy wheels, panoramic fixed glass roof, premium LED projector headlights with AFS, and an illuminated grille.
Pro: Drivers who opt for the 2021 Volkswagen ID.4 Pro will be treated to the IQ.Drive (Advanced Drivers Assistance Technologies), ID.Light, Discover Pro navigation with a 10-inch display, wireless charging, heated front seats, and a heated steering wheel.
Pro S: If you decide to get the 2021 Volkswagen ID.4 Pro S, you will love the premium LED headlights, illuminated grille, Discover Pro Max navigation with 12-inch display, hands-free Easy Open and Easy Close liftgate, and 12-way power-adjustable front seats with leatherette seating surfaces.
---
1
Starting MSRP of $39,995 for a 2021 Volkswagen ID.4 Pro with single-speed automatic transmission. Prices exclude transportation, taxes, title, other options and dealer charges. Dealer sets actual price.
2The "as low as" amount is net result of reducing MSRP by potential federal tax credit amount of $7500 and is not an indication of purchase price due at time of purchase. It is provided for informational purposes only. The ID.4 has not yet been certified as credit eligible by the IRS. This information does not constitute tax or legal advice. Any available credits apply only on the purchase of a qualifying vehicle and are not available in a lease transaction. All persons considering use of available tax credits should consult a tax advisor to determine eligibility based on their specific tax situation. Tax credits are subject to various limitations not within Volkswagen's control and are subject to change without notice.
3Closed end lease financing available for a new, unused 2021 ID.4 Pro, on approved credit to highly qualified customers by Volkswagen Credit through participating dealers. Monthly lease payment based on MSRP of $39,995 and destination charges less a $7,500 Lease Incentive and suggested dealer contribution resulting in a capitalized cost of $31,182.80. Excludes tax, title, license, options, and dealer fees. Amount due at signing includes first month's payment, customer down payment of $2,501, and acquisition fee of $699. Monthly payments total $13,644. Your payment will vary based on final negotiated price. At lease end, lessee responsible for disposition fee of $395, $0.20/mile over 30,000 miles and excessive wear and use. Offer not valid in Puerto Rico. See your Volkswagen dealer for details or, for general product information, call 1-800-Drive-VW. Offer is subject to change or terminate without notice.
4The ID.4 Pro S and 1st Edition have a preliminary manufacturer estimate of 260 miles range based on approximation of EPA test cycle. EPA estimates not yet available at this time. Actual range will vary and depend on several factors including driving and charging habits, accessory use, temperature and topography, battery age, load, and vehicle condition. Battery capacity decreases with time and use. See owner's manual for details. Different vehicle variants, including AWD variants, will have different ranges.
5ID.4 equipped with fast charging capability maximum rate of 125kW. Based on charging at a 125kW or higher charger. Charging times will vary and depend on a variety of factors, including ambient temperature, charger type, battery condition and initial state of charge, vehicle condition and others. Frequent and consecutive fast charging can permanently decrease battery capacity.
---
Energize Your Life with a 2021 Volkswagen ID.4
Are you ready to experience all-electric power in SUV form? Contact Pacific Volkswagen today to get yours.
Pacific Volkswagen

14900 Hindry Avenue
Hawthorne, CA 90250